EAGLE PCB Design Software

EAGLE var det første "low cost high perfomance" utleggsprogrammet som kom på markedet. Vi har jobbet med EAGLE siden 1991 og har levert mer enn 300 lisenser. Eagle er et PCB design software som gjør at du får jobben gjort. Eagle er solgt verden over tilbyr mange av de samme funksjonene som mye dyrere PCB software designpakker har.Din EALGE program kan oppgrades med flere moduler, flere brukere eller fra Standard til Professional til dagens prisdifferansen mellom den versjonen du har og den som ønkes.
Det er imidlertid et krav at du har oppdatert til siste versjon.
Oppgraderinger innenfor hvert heltall (f.eks. 7.0 til 7.1/7.2....) kan lastes ned fra CadSoft sine hjemmesider.

Ved større oppdatering (f.eks 6.x til 7.0) tilbys eksisterende kunder til gunstig pris.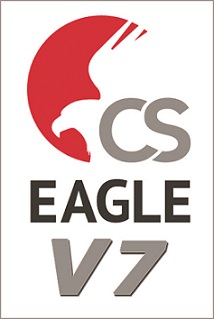 Egne priser til undervisningsformål.

Antall brukere: 1, 3, 5, 10, 30.
Ealge leveres i følgende versjoner:
EAGLE Standard (99 schematic sheets, 6 signal layers, 160 x 100 mm routing area)
EAGLE Professional 999 schematic sheets, 16 signal layers, 4 x 4 m (150 in x 150 in) routing area
EAGLE Hobby (99 schematic sheets, 6 signal layers, 160x100mm routing area; for ikke kommersielt bruk.


CadSoft kan generere underlag for mønsterkortproduksjon.
Gerber 274X & Gerber 274D
Excellon NC Drill Fomrat
SM 1000 and SM3000
Kunde bruker definert export format
System Requirements:
Windows 7, Windows 8.1, (Windows XP)
Linux based on kernel 2.6 for Intel computers, X11 with a minimum color depth of 8 bpp, 32-bit runtime environment with the following libraries:libpng14.so.14, libssl.so.1.0.0, libcrypto.so.1.0.0, libjpeg.so.8
Mac OS X version 10.6, 10.7 or 10.8 for Intel computer. Support for 10.9 is being worked on.